Easy-Link Plus Controller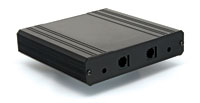 Industry Best Linking Solution
Single-user linking between two LTR trunking systems or cross-band linking between VHF/UHF/800 conventional and/or LTR trunking systems.
Allows two appropriate radios to be connected together in a 'back-to-back' configuration.
EASY-LINK PLUS is a small interface used to provide single-user linking between two LTR® trunking systems, linking between VHF/UHF systems and other VHF/UHF systems or LTR systems, or linking between a conventional 800 Mhz. base station and an LTR system.
EASY-LINK PLUS eliminates the need for phone lines, microwave, or even other radio frequencies, besides those which are already licensed to the SMR and/or end user. Operation is also almost completely transparent to the end user, since DTMF mics or other complicated signalling methods or procedures are not needed in order to establish a path through an EASY-LINK Plus system. No modifications need be made to the end user's mobile units and these mobile radios need not be any particular brand or model.
Provides single-user linking between two LTR systems
Provides linking between conventional VHF/UHF/800 Mhz. systems and LTR systems
Automatic Path Turnaround reverses path to provide faster system access on LTR systems
Makes use of existing frequencies–– no microwave, phone lines, or other frequencies are needed
No need for DTMF mics on mobiles or any special procedures to access a link
Muted and amplified receive-to-transmit audio paths allow low-level, unsquelched audio to be used
On-board DTMF decoder provides remote-control capability.
2 Standard Modes of operation:
1 auxilliary input and 2 auxilliary outputs
Microprocessor-based 'generic' design with most functions provided in software